Madrigals Ice Cream Social Lobo Auditorium Mon. Oct. 2, 7:00 pm $5 admission

HOMECOMING COMING SOON! Activities start October 2,2023 and go through October 7, 2023 Lobo bookstore hours our M-TH 8am -4pm Fridays 8am - noon Pick up your Lobo gear Hope to see all you LOBO fans supporting our teams.

Snowflake High School Community Blood Drive Monday October 9, 2023 8 am-6 pm SHS gym at 190 South 2nd West
Picture Day is coming soon!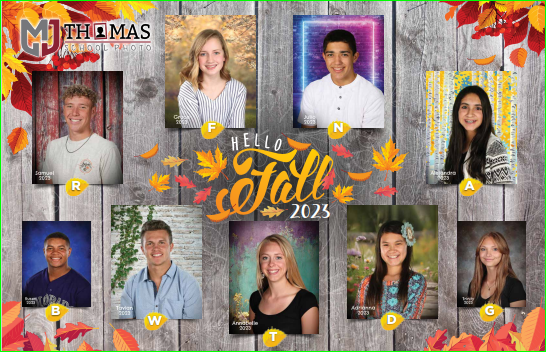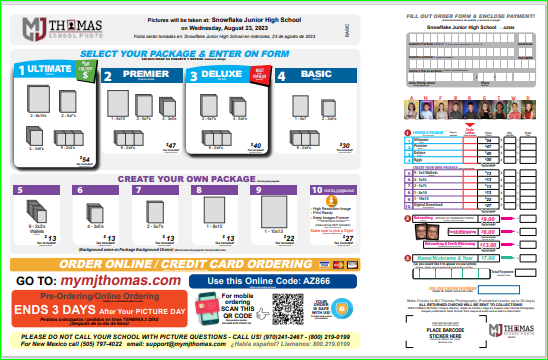 Bus routes have been updated. A few bus stops had to be added or removed due to new students or because roads are now dirt roads or not being able to turn around due to new buildings. On Fridays there are only have 5 buses to take SHS students home. Snowflake Blue bus, that goes to pioneer park & out east passed the country store. Snowflake Green bus that does Turley subdivision, 1st east, Sundance springs, snowflake heights, & hay hollow. Snowflake Yellow bus goes to woodruff, Ballard trust, temple, & the Y. Taylor Green bus goes to east side of Taylor. Taylor yellow bus goes to west side of Taylor. Main street is what use to divide between east and west for Taylor.

Bring your family and friends for a night of service. Fun night for family and friends to get together and serve our community. We appreciate all those who come and support our school district.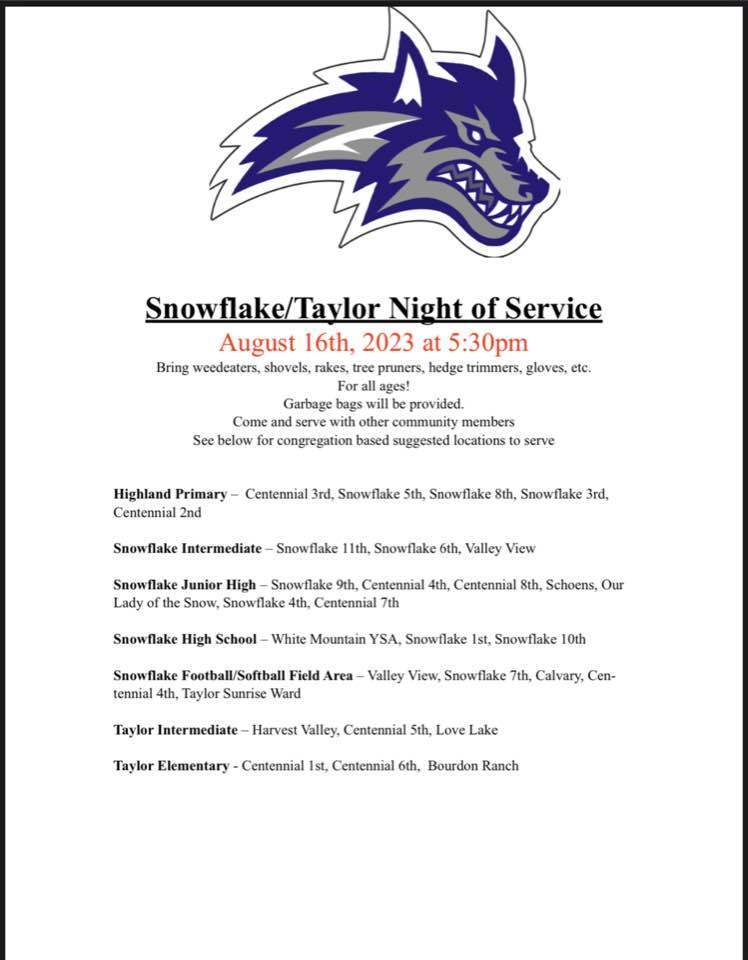 SJHS Information I apologize for the mistake. W.E.B. will be August 8, 2023 12-4 PM not on the 9th.
SJHS Information W.E.B. Where Everyone Belongs August 8, 2023 12-4 PM We have incorporated WEB as a way to help develop leadership skills and also help students to feel a part of our LOBO pack. It is an opportunity to receive information and learn skills on how to be successful at Snowflake Junior High. Incoming 7th-grade students will meet in the gym at the Junior High. 8th-grade WEB leaders lead them in team-building activities, will teach them skills for success at the Jr. High, give them a tour of the school, and introduce them to new friends. Papers will be given to the students to take home with them. Students will have identified words of wisdom that they can use for success at the Jr High. They will also write a list of their leaders and group members that will hopefully become new friends. This activity is not required. If you do not want your student to attend they do not have to.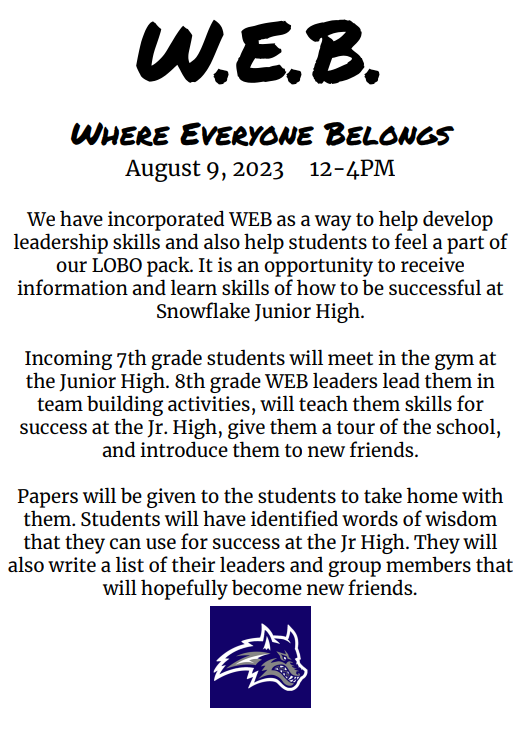 Sports Physicals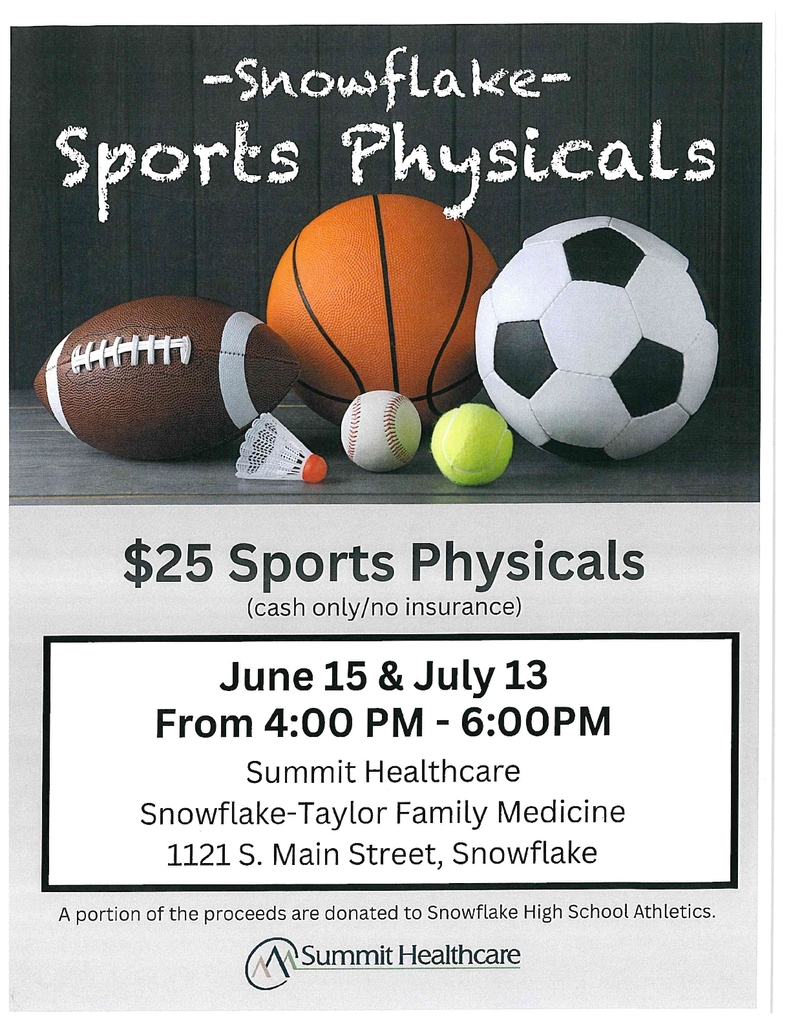 Summer Meal Program
SJHS SPORTS Track practice is canceled today. No track practice 3/30/23. Thank you.

Snowflake High School Community Blood Drive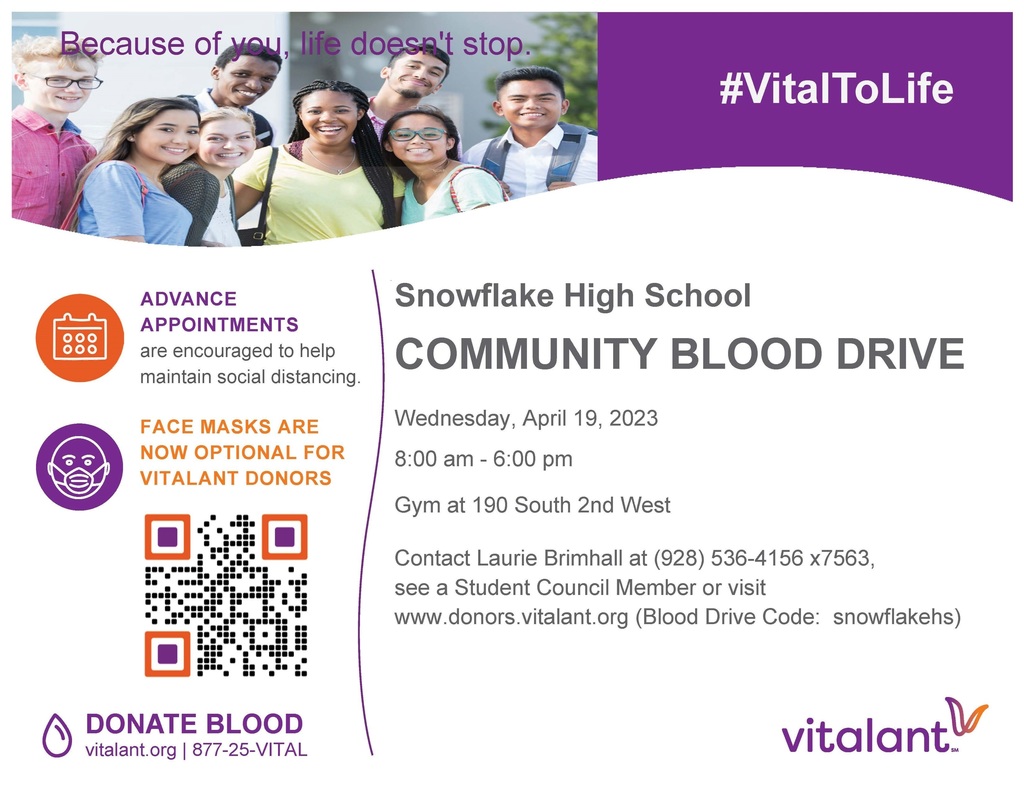 SJHS Sports The track meet that was scheduled for this week was cancelled. Practices will be held Monday through Thursday weather permitting.

Snowflake High School Chitty Chitty Bang Bang Performances Opening night is Friday, Mar 3rd. 7pm There are TWO performances on Saturday March 4th a 2:00pm matinee and 7pm evening show. Monday, March 6th 7pm Thursday, March 9th 7pm and the final closing show is on Friday, March 10th 7pm. There will be NO performances on March 11th.

The snow we got in the last hours has the roads very icy and slick. All schools will be on a two hour delay tomorrow. If you we change to a snow day, we will get that message out by 7:00 a.m. in the morning.

County Spelling Bee has been moved to Friday February 17, 2023 due to our snow day today. The Spelling Bee will start at 10:30 and be held in Snowflake High School auditorium.

Come support our community blood drive.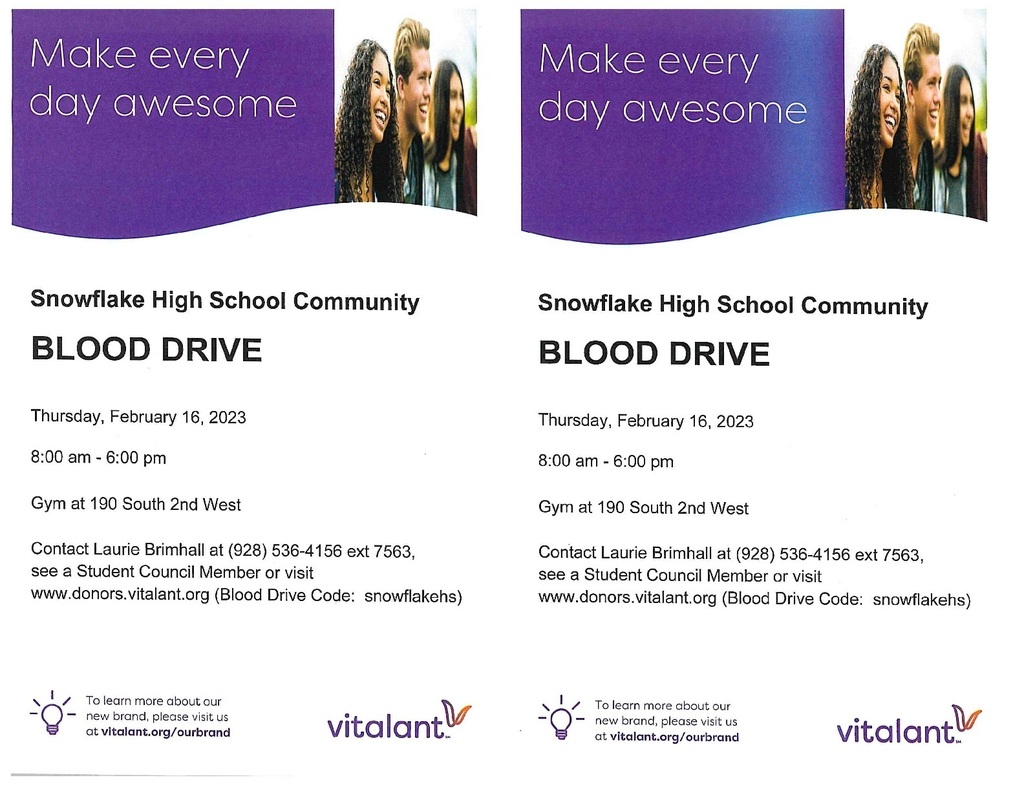 SNOW DAY!!! No school today 1/20/2023 .
SJHS I apologize for the error in the message. Boys basketball are away and girls are home at Taylor Intermediate.